Al-Zayani Middle Eastern art collection sells for 2.9million US dollor at Sothebys auction
Publish Time:
Author: Site Editor
Visit: 236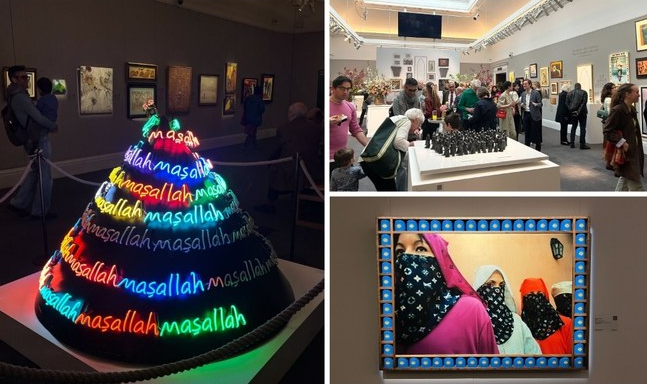 Highlights from Sotheby's Islamic, South Asian, and Middle Eastern week in London. (AN Photo/Tamara Turki)
---
Collection exhibited in London as part of auction house's Islamic, South Asian, Middle Eastern week
Exhibition works include 20th-century MENA art, 19th-century orientalist paintings, historical artifacts from Islamic world
LONDON: An auction of almost 100 works of Middle Eastern art from Abdulrahman Al-Zayani, one of the region's leading collectors, on Tuesday sold for nearly $2.9 million at Sotheby's London.
Titled "Testimony of a Journey: The Al-Zayani Collection," the collection featured an eclectic mix of themes, mediums, and aesthetics produced over the last century by artists from Egypt, Turkiye, Lebanon, Iran, Iraq, Syria, Saudi Arabia, the UAE, and North Africa.
In a statement, the Al-Zayani family said: "As we open the doors to our collection, the overarching sense is that these pieces were acquired with love, and we are excited for them to go to new homes where they will be discovered and appreciated anew."
Prior to the live auction, the entire collection was showcased by Sotheby's from April 20 to 25 at London galleries as part of its Islamic, South Asian, and Middle Eastern week.
The pieces had been expected to fetch around $1.4 million in the auction but were sold for more than double the pre-auction estimates.
The five-day exhibition also presented highlights from four auctions of sought-after works from across centuries and continents.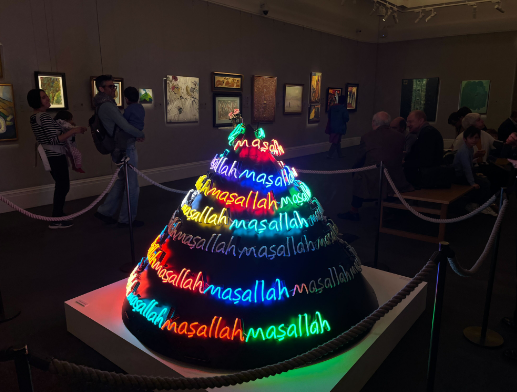 "41 Kere (41 Times) (41 works)" by Ardan Ozmenoglu from "Testimony of a Journey: The Al-Zayani Collection"
---
During the collection's private viewing on Sunday, all eyes were on "41 Kere (41 Times) (41 works)" by Ardan Ozmenoglu. The colorful light installation reiterates the Turkish loanword of Masha-Allah, an Arabic expression commonly used to convey praise or appreciation of beauty.
However, the Al-Zayani collection shined brightly both as individual pieces as well as a cohesive ensemble assembled on the gallery walls. It is further amplified by works from the 20th-century art, Middle East auction in the room next door.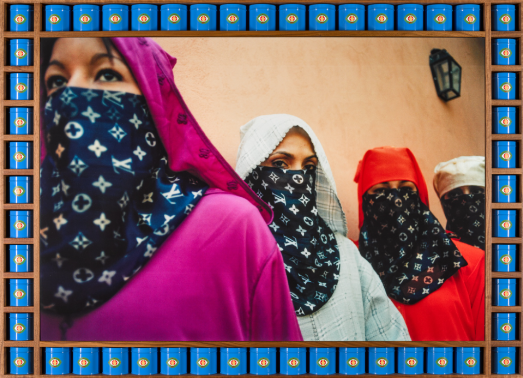 "Look At Me In Colour" by Hassan Hajjaj from the 20th Century Art / Middle East auction. (Sotheby's)
---
The curated selection displayed a breadth of creativity from the time period, including modern Iranian art, contemporary paintings by female artists, and a mixed media work by Moroccan Hassan Hajjaj.
According to Sotheby's, the sale is led by an important painting by A
ref El-Rayess from his iconic desert series produced while he was living in Jeddah.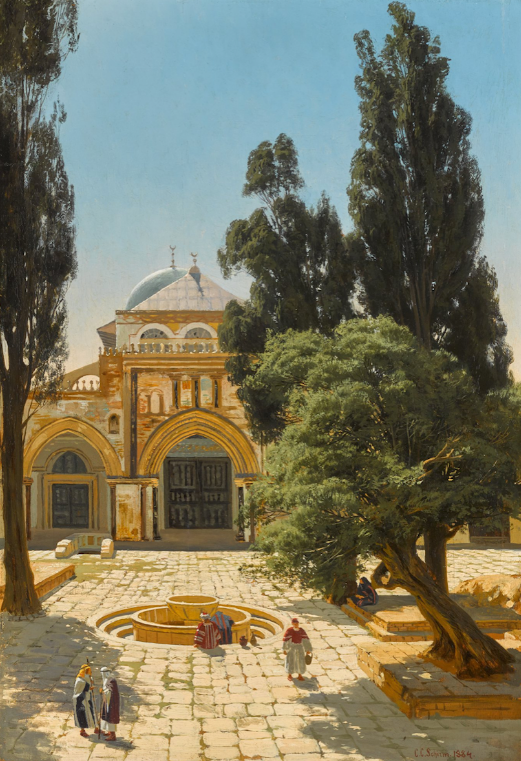 ​​​​​​​
"The Al-Aqsa Mosque, Jerusalem" by Carl Cowen Schirm from the Orientalist Sale. (Sotheby's)
---
Meanwhile, the schism between East and West is bridged in Sotheby's Orientalist sale. It included 19th- and early 20th-century paintings of North Africa, the Levant, Arabia, and the Ottoman world by renowned artists such as Rudolf Ernst, Frederick Arthur Bridgman, and Jean-Leon Gerome.
The auction house said: "The beautiful and intriguing architecture and landscapes appealed to the Western market for many decades."
From depictions of historical landmarks, such as Al-Aqsa Mosque in Jerusalem, to representations of bustling marketplaces in Tashkent, the art serves as a valuable historical record of the region.
And chronicling back as early as 1861, the "Arts of the Islamic World and India" auction exhibited a variety of rare artifacts including an important Mamluk genealogical scroll, and a monumental Kufic Qur'an leaf.
(Article reproduced from Arab News)