Muslim Kids Toy Gift Quran Pillow SQ910
Model

SQ910

Style

Islamic Muslim Kids Quran Gift

Function

Quran learning/Sleep and Waking DUAA

Feature

Muslim kid learning Quran machine

Support

Touch Control Light And Sound

Product Package Size

31*12*26 cm
Description
Brand: Equantu
Model: SQ910
Product name: Muslim Kids Toy Gift Quran Pillow
Function:
QURAN SURAHS Surah Fatiha Ayatul Kursi
Amanar Rasuloo (End Of Surah Baqarah)
Surah Yaseen Surah Ar Rahman Surah Mulk 3 Quls
ARABIC DUAS ON THE QURAN CUBE DUA PILLOW :
Sleeping Waking Before Doing Anything (Bismillah)
For Praising Allah (Alhamdulillah) For Learning More Knowledge
For When We Sneeze Before Eating After Eating
When Going To The Bathroom
After Leaving The Bathroom
When Going Out Of The House
When Greeting Somebody (Assalamualaykum)
When Replying To A Greeting (Walaikumsalaam)
Asking For forgiveness
NASHEEDS ON THE QURAN CUBE DUA PILLOW
Assubhu Badaa – Allahu Allahu
99 Names of Allah – Asma Ul Husna – Kamal Uddin
La Ilaha Illah – Kamal Uddin
Alif Baa Taa –Arabic alphabet
4 DUROOD SHARIF'S
KALIMA'S
Imane Mujmal & Iman E Mufassal
1 First Kalima (Tayyab): 2- Second Kalima (Shahadat):
3- Third Kalima (Tamjeed): 4- Fourth Kalima (Touheed):
5- Fifth Kalima (Radd-e-Kufar): 6 (Iman E Mujmal):
7 (Imane Mufasal)
ENGLISH DUAS – ON THE QURAN CUBE DUA PILLOW
Make Me A Hafiz Of The Quran
Help Me To Give Charity
Make Me A Good Muslim
Take Me And My Family To Jannah
Take Me To Makkah & Madina
Help Me To Be Good To My Parents
Bless My Parents With Jannah
Forgive My Parents, Grandparents And All Muslims
60 MINUTES OF RECITATION
Style: Islamic Muslim Kids Quran Gift
Color: White
Support:Touch Control
Battery Li-ion:3.7V 500mAh
Working time :More than 3 hours
Package Type :
Carton box:61*32*28cm
Single package size:31*12*26 cm
A Carton of 5Pcs
G.W.: 9 kg/CTN.
N.W.: 6 kg/CTN.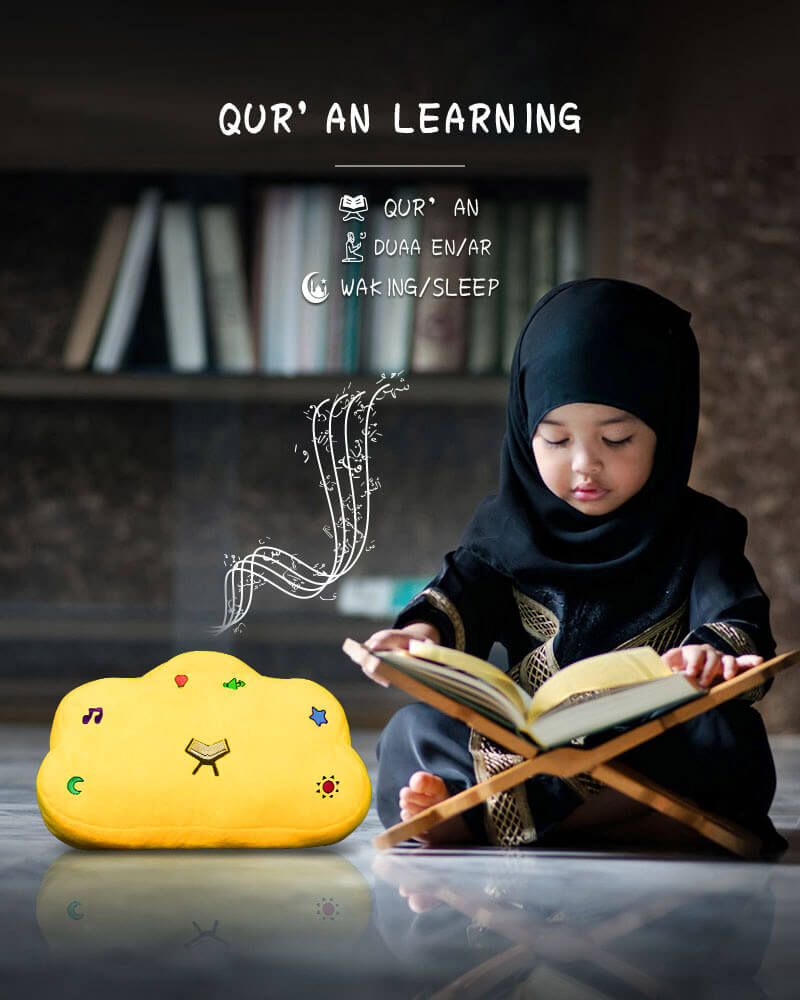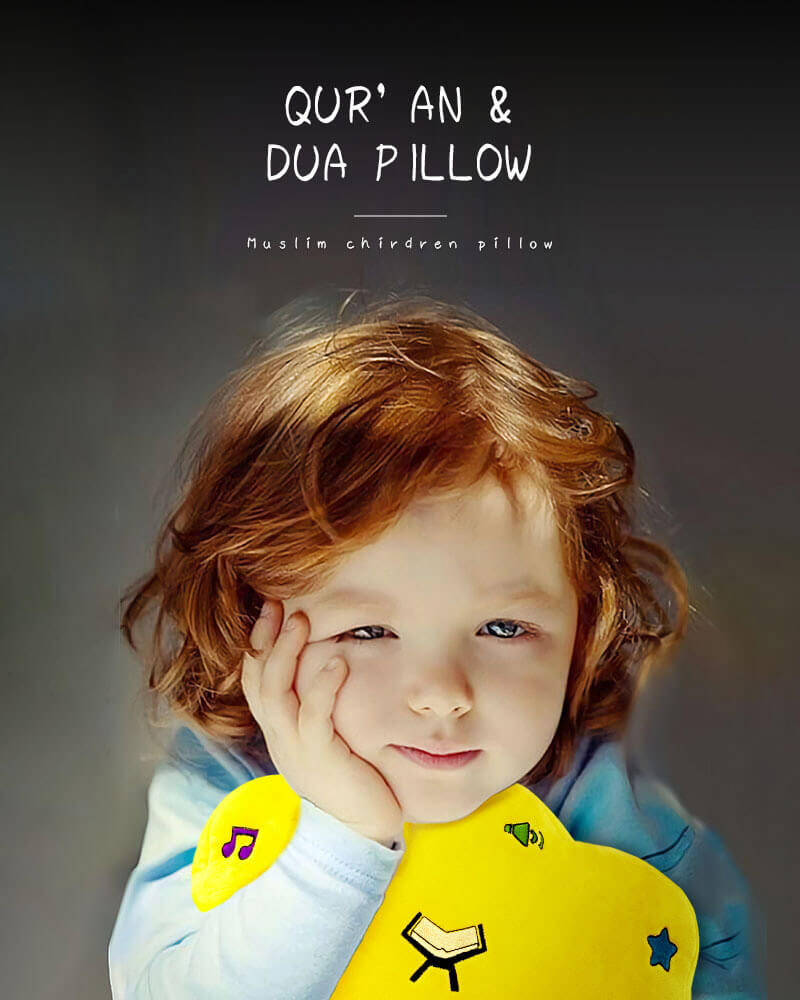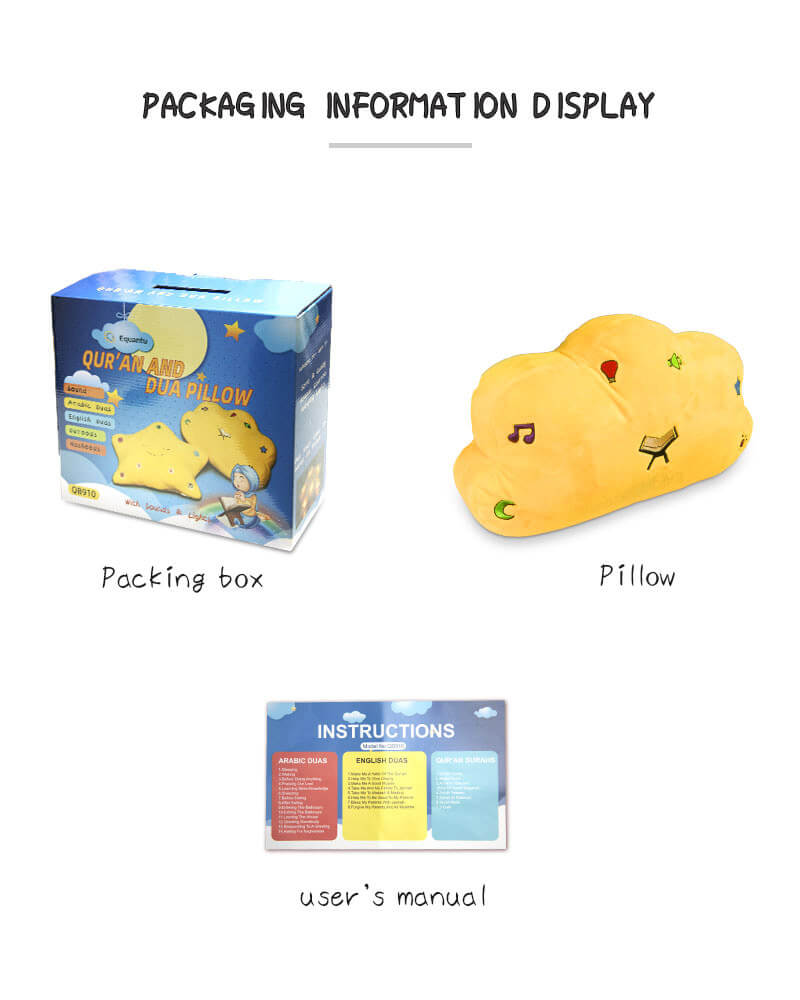 Feedback